Já foi divulgada a lista dos indicados à maior premiação da televisão americana, os Emmy Awards.
As séries que lideram a corrida aos Emmy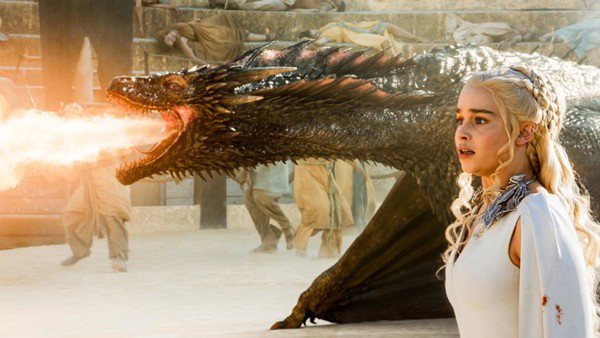 Game of Thrones segue na frente com 23 indicações, The People v O.J. Simpson: American Crime Story muito próximo nas suas 22 indicações, seguido por Fargo (18 indicações).
Entre os canais, HBO surge novamente na frente com 94 indicações, a FX com 56, Netflix com 54 e a NBC com 41 indicações.
O Emmy Awards 2016 acontece no dia 18 de setembro e a cerimônia será apresentada por Jimmy Kimmel no Microsoft Theater, em Los Angeles.
A cerimônia dos prêmios técnicos será divida em duas noites diferentes, em 10 e 11 de setembro.
No Brasil, será o canal Warner a transmitir a cerimônia, e apenas a entrega dos prêmios nas principais categorias.
Lista dos indicados nas categorias séries e minisséries
Série Dramática
The Americans – FX
Better Call Saul – AMC
Downton Abbey – ITV/PBS
Game of Thrones – HBO
Homeland – Showtime
House of Cards – Netflix
Mr. Robot – USA Network
Série Cômica
Black-ish – ABC
Master of None – Netflix
Modern Family – ABC
Transparent – Amazon
Silicon Valley – HBO
Veep – HBO
Unbreakable Kimmy Schmidt – Netflix
Minissérie
American Crime – ABC
Fargo – FX
Roots – History Channel
The Night Manager – BBC/AMC
American Crime Story: People vs OJ Simpson – FX
Telefilme
A Very Murry Christmas (Telefilme)
All The Way (Telefilme) – HBO
Confirmation (Telefilme) – HBO
Luthor (Série britânica) – BBC/BBC America
Sherlock (Série britânica) – BBC/PBS
Ator de Série Dramática
Kyle Chandler por Bloodline – Netflix
Kevin Space por House of Cards – Netflix
Rami Malek por Mr. Robot – USA Network
Bob Odenkirk por Better Call Saul – AMC
Liev Schreiber por Ray Donovan – Showtime
Matthew Rhys por The Americans – FX
Ator de Série Cômica
Anthony Anderson por Black-ish – ABC
Aziz Ansari por Master of None – Netflix
Will Forte por The Last Man on Earth – Fox
William H. Macy por Shameless – Showtime
Thomas Middleditch por Silicon Valley – HBO
Jeffrey Tambor por Transparent – Amazon
Ator de Minissérie ou Telefilme
Bryan Cranston por All the Way (Telefilme) – HBO
Benedict Cumberbatch por Sherlock – BBC/PBS
Idris Elba por Luther – BBC/BBC America
Cuba Gooding Jr. por American Crime Story: The People vs. O.J. Simpson – FX
Tom Hiddleston por The Night Manager – BBC/AMC
Courtney B. Vance por American Crime Story: The People vs. O.J. Simpson – FX
Atriz de Série Dramática
Claire Danes por Homeland – FX
Viola Davis por How To Get Away with Murder – ABC
Taraji P. Henson por Empire – Fox
Tatiana Maslany por Orphan Black – Space Canadá/BBC America
Keri Russell por The Americans – FX
Robin Wright por House of Cards – Netflix
Atriz de Série Cômica
Ellie Kemper por Unbreakable Kimmy Schmidt – Netflix
Julia Louis-Dreyfuss por Veep – HBO
Laurie Metcalf por Getting On – HBO
Tracee Ellis Ross por Black-ish – ABC
Amy Schumer por Inside Amy Schumer – Comedy Central
Lily Tomlin por Grace & Frankie – Netflix
Atriz em Minissérie ou Telefilme
Kirsten Dunst por Fargo – FX
Felicity Huffman por American Crime – ABC
Audra McDonald por Lady Day at Emerson's Bar & Grill (Telefilme) – HBO
Sarah Paulson por American Crime Story – FX
Lili Taylor por American Crime – ABC
Kerry Washington por Confirmation (Telefilme) – HBO
Ator Coadjuvante em Série Dramática
Jonathan Banks por Better Call Saul – AMC
Ben Mendelsohn por Bloodline – Netflix
Peter Dinklage por Game Of Thrones – HBO
Kit Harington por Game Of Thrones – HBO
Michael Kelly por House Of Cards – Netflix
Jon Voight por Ray Donovan – Showtime
Ator Coadjuvante em Minissérie ou Telefilme
Jesse Plemons por Fargo – FX
Hugh Laurie por The Night Manager – AMC
Sterling K. Brown por American Crime Story: The People vs. O.J. Simpson – FX
David Schwimmer por American Crime Story: The People vs. O.J. Simpson – FX
John Travolta por American Crime Story: The People vs. O.J. Simpson – FX
Ator Coadjuvante em Série Cômica
Louie Anderson por Baskets – FX
Andre Braugher por Brooklyn Nine-Nine – Fox
Keegan-Michael Key por Key & Peele – Comedy Central
Ty Burrell por Modern Family – ABC
Tituss Burgess por Unbreakable Kimmy Schmidt – Netflix
Tony Hale por Veep – HBO
Matt Walsh por Veep – HBO
Ator Convidado em Série Dramática
Max von Sydow por Game Of Thrones – HBO
Michael J. Fox por The Good Wife – CBS
Reg E. Cathey por House Of Cards – Netflix
Mahershala Ali por House Of Cards – Netflix
Paul Sparks por House Of Cards – Netflix
Hank Azaria por Ray Donovan – Showtime
Ator Convidado em Série Cômica
Bob Newhart por The Big Bang Theory – CBS
Tracy Morgan por Saturday Night Live – NBC
Larry David por Saturday Night Live – NBC
Bradley Whitford por Transparent – Amazon
Martin Mull por Veep – HBO
Peter MacNicol por Veep – HBO
Atriz Coadjuvante em Série Dramática
Maura Tierney por The Affair – Showtime
Maggie Smith por Downton Abbey – ITV/PBS
Lena Headey por Game Of Thrones – HBO
Emilia Clarke por Game Of Thrones – HBO
Maisie Williams por Game Of Thrones – HBO
Constance Zimmer por UnREAL – Lifetime
Atriz Coadjuvante em Série Cômica
Niecy Nash por Getting On – HBO
Allison Janney por Mom – CBS
Kate McKinnon por Saturday Night Live – NBC
Judith Light por Transparent – Amazon
Gaby Hoffman por Transparent – Amazon
Anna Chlumsky por Veep – HBO
Atriz Coadjuvante em Minissérie ou Telefilme
Melissa Leo por All The Way (Telefilme) – HBO
Regina King por American Crime – ABC
Sarah Paulson por American Horror Story: Hotel – FX
Kathy Bates por American Horror Story: Hotel – FX
Jean Smart por Fargo – FX
Olivia Colman por The Night Manager – BBC/AMC
Atriz Convidada em Série Dramática
Margo Marindale por The Americans – FX
Carrie Preston por The Good Wife – CBS
Laurie Metcalf por Horace And Pete – louisck.net
Ellen Burstyn por House Of Cards – Netflix
Molly Parker por House Of Cards – Netflix
Allison Janney por Masters Of Sex – Showtime
Atriz Convidada em Série Cômica
Laurie Metcalf por The Big Bang Theory – CBS
Christine Baranski por The Big Bang Theory – CBS
Tina Fey e Amy Poehler por Saturday Night Live – NBC
Melissa McCarthy por Saturday Night Live – NBC
Amy Schumer por Saturday Night Live – NBC
Melora Hardin por Transparent – Amazon
Roteiro – Série Dramática
The Americans – eps. Persona Non Grata – Joel Fields e Joe Weisberg – FX
Downton Abbey – eps. 8 – Julian Fellowes – ITV/PBS
Game Of Thrones – eps. Battle Of The Bastards – David Benioff e D.B. Weiss – HBO
The Good Wife – eps. End – Robert King e Michelle King – CBS
Mr. Robot – eps 1.0_hellofriend.mov – Sam Esmail – USA Network
UnREAL – eps. Return – Marti Noxon e Sarah Gertrude Shapiro – Lifetime
Roteiro – Série Cômica
Catastrophe – eps. 1 – Sharon Horgan e Rob Delaney – Channel 4/Amazon
Master Of None – eps. Parents – Aziz Ansari e Alan Yang – Netflix
Silicon Valley – eps. Founder Friendly – Dan O'Keefe – HBO
Silicon Valley – eps. The Uptick – Alec Berg – HBO
Veep – eps. Morning After – Daniel Mandel – HBO
Veep – eps. Mother – Alex Gregory e Peter Huyck – HBO
Roteiro – Minissérie, Telefilme ou Especial
Fargo – eps. Loplop – Bob DeLaurentis – FX Networks
Fargo – eps. Palindrome – Noah Hawley – FX
The Night Manager – David Farr – BBC/AMC
American Crime Story – eps. From The Ashes Of Tragedy – Scott Alexander e Larry Karaszewski – FX
American Crime Story – eps. Marcia, Marcia, Marcia – D.V. DeVincentis – FX
American Crime Story – eps. The Race Card – Joe Robert Cole – FX
Direção – Série Dramática
Downton Abbey – eps. 9 – Michael Engler – ITV/PBS
Game Of Thrones – eps. Battle Of The Bastards – Miguel Sapochnik – HBO
Game Of Thrones – eps. The Door – Jack Bender – HBO
Homeland – eps. The Tradition Of Hospitality – Lesli Linka Glatter – Showtime
The Knick – eps. This Is All We Are – Steven Soderbergh – Cinemax
Ray Donovan – eps. Exsuscito – David Hollander – Showtime
Direção – Série Cômica
Master Of None – eps. Parents – Aziz Ansari – Netflix
Silicon Valley – eps. Daily Active Users – Alec Berg – HBO
Silicon Valley – eps. Founder Friendly – Mike Judge – HBO
Transparent – eps. Man On The Land – Jill Soloway – Amazon
Veep – eps. Kissing Your Sister – Dave Mandel – HBO
Veep – eps. Morning After – Chris Addison – HBO
Veep – eps. Mother – Dale Stern – HBO
Direção – Minissérie, Telefilme ou Especial
All The Way (Telefilme) – Jay Roach – HBO
Fargo – eps. Before The Law – Noah Hawley -FX
The Night Manager – Susanne Bier – BBC/AMC
American Crime Story: The People vs. O.J. Simpson – Ryan Murphy – FX
American Crime Story: The People vs. O.J. Simpson – Antony Hemingway – FX
American Criem Story: The People vs. O.J. Simpson – John Singleton – FX
Elenco de Série Dramática
Downton Abbey – ITV/PBS
Game Of Thrones – HBO
House Of Cards – Netflix
Mr. Robot – USA
Orange Is The New Black – Netflix
Elenco de Série Cômica
Silicon Valley – HBO
Transparent – Amazon
Unbreakable Kimmy Schmidt – Netflix
Veep – HBO
Elenco de Minissérie, Especial ou Telefilme
Fargo – FX
Grease: Live (Especial) – FOX
The Night Manager – AMC
American Crime Story: The People vs. O.J. Simpson – FX
Roots – History Channel
Série Animada
Archer – eps. The Figgis Agency – FX
Bob's Burgers – eps. The Horse Rider-er – Fox
Phineas and Ferb – eps. Last Day of Summer – Disney
The Simpsons – eps. Halloween of Horror – Fox
South Park – You're Not Yelping – Comedy Central
Série Animada – Curta Duração
Adventure Time – eps. Hall of Egress – Cartoon Network
The Powerpuff Girls – eps. Once Upon A Townsville – Cartoon Network
Robot Chicken – eps. Robot Chicken Christmas Special: The X-Mas United – Adult Swim
Sponge Bob Square Pants – eps. Company Picnic – Nickelodeon
Dublagem
Family Guy – eps. Pilling Them Softly – FOX
South Park – eps. Stunning and Brave – Comedy Central
South Park – eps. Tweek x Craig – Comedy Central
SuperMansion – eps. Puss in Books – Crackle
SuperMansion – eps. The Inconceivable Escape of Dr. Devizo – Crackle
Direção de Arte – Séries Contemporâneas ou de Fantasia – Single Camera
American Horror Story: Hotel – FX Networks
Game Of Thrones – eps. Blood Of My Blood, The Broken Man, No One – HBO
House Of Cards – eps. Chapter 41, Chapter 47, Chapter 48 – Netflix
The Man In The High Castle – eps. The New World – Amazon
Penny Dreadful – eps. Fresh Hell, Evil Spirits In Heavenly Places, And Hell Itself My Only Foe – Showtime
Diretor de Arte – Séries de Época, Minisséries ou Telefilmes – Single Camera
Downton Abbey – eps. 5 e 7 – BBC/PBS
Fargo – eps. Waiting For Dutch – FX
The Knick – eps. Ten Knots, The Best With The Best To Get The Best, Wonderful Surprises – Cinemax
Masters Of Sex – eps. The Excitement Of Release, Surrogates, Party Of Four – Showtime
Outlander – eps. Not In Scotland Anymore, Faith – Starz
Direção de Arte – Comédias
The Big Bang Theory – eps. The Positive Negative Reaction, The Big Bear Precipitation, The Fermentation Bifurcation – CBS
The Muppets – eps. The X Factor, Pigs In A Blackout, Single All The Way – ABC
Silicon Valley – eps. Two In The Box, Bachmanity Insanity, Daily Active Users – HBO
Transparent – eps. Kina Hora, The Book Of Life, Man On The Land – Amazon
Veep – eps. The Eagle, C**tgate – HBO
Direção de Fotografia – Multicâmera
The Big Bang Theory – eps. The Convergence Convergence – CBS •
Mom – eps. Sticky Hands And A Walk On The Wild Side – CBS
Nicky, Ricky, Dicky & Dawn – eps. Go Hollywood – Nickelodeon
The Soul Man – eps. White Trash – TV Land
Diretor de Fotografia – Single Camera
Bates Motel – eps. A Danger To Himself And Others – A&E
Downton Abbey – eps. Episode 9 – ITV/PBS
Game Of Thrones – eps. Home – HBO
Gotham – eps. Azrael – Fox
Homeland – eps. The Tradition Of Hospitality – Showtime
House Of Cards – eps. Chapter 45 – Netflix
The Man In The High Castle – eps. The New World – Amazon
Diretor de Fotografia de Minissérie ou Telefilme
Fargo – eps. Waiting For Dutch – FX
Luther – BBC/BBC America
American Crime Story: The People vs. O.J. Simpson – eps. From The Ashes Of Tragedy – FX
Sherlock: The Abominable Bride – BBC/PBS
Figurino – Série, Minissérie, Telefilme ou Especial – de Época/Fantasia
Downton Abbey – eps. Episode 8 – ITV/PBS
Game Of Thrones – eps. The Winds Of Winter – HBO
Outlander – eps. Not In Scotland Anymore – Starz
American Crime Story: The People vs. O.J. Simpson – eps. Marcia, Marcia, Marcia – FX
Roots – eps. Night One – History
Figurino – Série, Minissérie, Telefilme ou Especial – Contemporânea
American Horror Story: Hotel – eps. Chutes And Ladders – FX
Empire – eps. Past Is Prologue – FOX
The Good Wife – eps. End – CBS
Grace And Frankie – eps. The Party – Netflix
Transparent – eps. Kina Hora – Amazon
Edição – Série Dramática – Single Camera
Better Call Saul – eps. Nailed – AMC
Better Call Saul – eps. Rebecca – AMC
Game Of Thrones – eps. Battle Of The Bastards – HBO
Game Of Thrones – eps. Oathbreaker – HBO
Narcos – eps. Descenso – Netflix
Edição – Série Cômica – Single Camera
Crazy Ex-Girlfriend – eps. Josh Just Happens To Live Here! – CW
Silicon Valley – eps. Daily Active Users – HBO
Silicon Valley – eps. The Uptick – HBO
Veep – eps. Inauguration – HBO
Veep – eps. Mother – HBO
Edição – Série Cômica – Multicâmera
The Big Bang Theory – eps. The Opening Night Excitation – CBS
Horace And Pete – eps. 103 – louisck.net
Last Man Standing – eps. The Road Less Driven – ABC
Mike & Molly – eps. I See Love – CBS
Mom – eps. Atticus Finch And The Downtrodden – CBS
2 Broke Girls – eps. And The Sax Problem – CBS
Edição – Minissérie ou Telefilme
Fargo – eps. Did You Do This? No, You Did It! – FX
Fargo – eps. Waiting for Dutch – FX
American Crime Story: The People vs. O.J. Simpson – eps. From The Ashes Of Tragedy – FX
American Crime Story: The People vs. O.J. Simpson – eps. The Race Card – FX
American Crime Story: The People vs. O.J. Simpson – eps. The Verdict – FX
Penteado – Single Camera
Downton Abbey – eps. 9 – ITV/PBS
Game Of Thrones – eps. The Door – HBO
The Knick – eps. Williams And Walker – Cinemax
Masters Of Sex – eps. Matters Of Gravity – Showtime
Penny Dreadful – eps. Glorious Horrors – Showtime
Penteado – Minissérie, Especial ou Telefilme
All The Way (Telefilme) – HBO
American Horror Story: Hotel – FX
Fargo – FX
American Crime Story: The People vs. O.J. Simpson – FX
Roots – eps. Night One – History
Sequência de Abertura – Design
The Man In The High Castle – Amazon
Marvel's Jessica Jones – Netflix
Narcos – Netflix
The Night Manager – BBC/AMC
Vinyl – HBO
Maquiagem – Single Camera – Sem Prótese
Game Of Thrones – eps. Battle Of The Bastards – HBO
The Knick – eps. Whiplash – Cinemax
Penny Dreadful – eps. Glorious Horrors – Showtime
Vikings – eps. Yol – History
Vinyl – eps. Piloto – HBO
Maquiagem – Minissérie ou Telefilme – Sem Prótese
All The Way (Telefilme) – HBO
American Horror Story: Hotel – FX
Fargo – FX
American Crime Story: The People vs. O.J. Simpson – FX
Roots – eps. Night One – History
Maquiagem – Série, Minissérie ou Telefilme – Com Prótese
All The Way (Telefilme) – HBO
American Horror Story: Hotel – FX
Game Of Thrones – eps. The Door – HBO
Penny Dreadful – eps. And Hell Itself My Only Foe – Showtime
The Walking Dead – eps. No Way Out – AMC
Trilha Musical – Composição Original – Séries
Bates Motel – eps. Forever – A&E
Chef's Table (Reality Show) – Grant Achatz – Netflix
Limitless – eps. Piloto – CBS
Minority Report – eps. Piloto – Fox
Mr. Robot – eps. 1.0_ hellofriend.mov – USA
Penny Dreadful – eps. And They Were Enemies – Showtime
Trilha Musical – Composição Original – Minisséries, Telefilmes ou Especiais
All The Way (Telefilme) – HBO
Descendants (Telefilme) Disney
Fargo – eps. Loplop – FX
The Night Manager – eps. 2 – BBC/AMC
War & Peace – eps. 1 – BBC/Lifetime
Canção Original
Crazy Ex-Girlfriend – eps. I'm Going on a Date with Josh's Friend! – canção: Settle For Me – CW
Empire – eps. A Rose By Any Other Name – canção: Good People – Fox
Galavant – eps. A New Season aka Suck It Cancellation Bear – canção: A New Season- ABC
Garfunkel and Oates – eps. Trying To Be Special – canção: Frozen Lullaby, Vimeo, Divide/Conquer – IFC
The Hunting Ground (Especial) – canção: 'Til It Happens To You – CNN
Tema de Abertura
Crazy Ex-Girlfriend – CW
Marvel's Jessica Jones – Netflix
Narcos – Netflix
The Night Manager – AMC
Sense8 – Netflix
The Whispers – ABC
Edição de Som – Séries
Black Sails – eps. XX – STarz
Game Of Thrones – eps. The Door – HBO
Gotham – eps. Azrael – Fox
Marvel's Daredevil – eps. New York's Finest – Netflix
Vikings – eps. The Last Ship – History
Edição de Som – Minissérie, Telefilme ou Especial
American Horror Story: Hotel – eps. Checking In – FX
Fargo – eps. The Castle – FX
The Night Manager – eps. 5 – BBC/AMC
Roots – eps. Night Two – History
Sherlock: The Abominable Bride – ITV/PBS
Mixagem de Som – Série Dramática
Better Call Saul – eps. Klick – AMC
Downton Abbey – eps. 9 – ITV/PBS
Game Of Thrones – eps. Battle Of The Bastards – HBO
House Of Cards – eps. 52 – Netflix
Mr. Robot – eps 1.5_br4ve-trave1er.asf – USA
Ray Donovan – eps. Exsuscito – Showtime
Mixagem de Som – Minissérie ou Telefilme
Fargo – eps. Gift Of The Magi – FX
The Night Manager – eps. 5 – AMC
American Crime Story: The People vs. O.J. Simpson – eps. From The Ashes Of Tragedy – FX
Sherlock: The Abominable Bride – ITV/PBS
True Detective – eps. Down Will Come – HBO
Mixagem de Som – Série Cômica ou Dramática – Meia-Hora
Modern Family – eps. The Storm – ABC
Mozart In The Jungle – eps. Nothing Resonates Like Rhinoceros Foreskin – Amazon
Silicon Valley – eps. Bachmanity Insanity – HBO
The Simpsons – eps. Halloween of Horror – Fox
Veep – eps. Congressional Ball – HBO
Efeitos Visuais
Black Sails – eps. XX – Starz
Game Of Thrones – eps. Battle Of The Bastards – HBO
The Man In The High Castle – eps. The New World – Amazon
Penny Dreadful – eps. And They Were Enemies – Showtime
Vikings – eps. The Last Ship – History
Efeitos Visuais de Apoio
Better Call Saul – eps. Fifi – AMC
11.22.63 – eps. The Rabbit Hole – Hulu
Hannibal – eps. Primavera – NBC
Sherlock: The Abominable Bride – ITV/PBS
The Walking Dead – eps. No Way Out – AMC
Equipe de Dublês – Série Dramática
The Blacklist – NBC
Game Of Thrones – HBO
Gotham – Fox
Marvel's Daredevil – Netflix
Rush Hour – CBS
Equipe de Dublês – Série Cômica ou Programa de Variedades
Angie Tribeca – TBS
Brooklyn Nine-Nine – Fox
K.C. Undercover – Disney
Saturday Night Live – NBC
Shameless – Showtime
Direção Técnica e de Controle de câmera de vídeo
The Big Bang Theory – eps. The Celebration Experimentation – CBS
Jimmy Kimmel Live – eps. In Brooklyn (talk show) ABC
Last Week Tonight With John Oliver – eps 303 (talk show) – HBO
Saturday Night Live eps. apresentado por Ariana Grande (humorístico) – NBC
The Voice – eps 917A (reality show) – NBC